Related to Tags (1) (Content)
So you're lucky enough to be heading to Koh Samui, or maybe you just want to drool over some delicious vegan food and imagine yourself tucking into it on a tropical island. Either way, you're in the right place!
There are so many vegan options to be found on Koh Samui, these are the places I checked out during my trip.
---
131/1 Moo 3, Lamai Beach Rd, Koh Samui
Pure Vegan Heaven is a one-stop-shop (or restaurant) for pretty much anything vegan you could want. They serve mainly international food, but also have vegan Thai dishes on the menu. I tried the breakfast burritos, smoothie bowls, mushroom pasta, well in all honestly I tried a fair few items on the menu and it did not disappoint once. It's a nice spot for a late breakfast or lunch.
---
138/14 Moo 4 Maret, Lamai Beach, Koh Samui, 84310
Lamai Veggie serves a 'daily set' meal which changes frequently. It includes curry, rice or noodles and salad, you can also add on some mock meat if you'd like. The food is delicious and the lady that runs it is honestly so lovely.
On Wednesdays, they do a burger meal which might be up there with one of the best vegan burgers I've had. The bun was the perfect mix of crispy and chewy and the chickpea mayo was unexpectedly good. Plus Thai coleslaw is just infinitely better than the classic stuff.
---
14/93 Village No. 2, Bophut Subdistrict, Chaweng, Koh Samui, 84320
Vegan Khunnay is an all you can eat buffet serving around 6 different dishes and 3 soups, plus riceberry rice which is my new love! This was the first place I had dinner on Koh Samui. So naturally, I put everything on my plate (pictured above). It was all delicious, however, I'd recommend going a few times and having a different dish each time to appreciate the yumminess. My favourites would have to be the massaman curry and the classic Thai Green Curry.
---
Located at the base of the iconic 'Big Buddha'
Tamachat serves Buddhist vegan food in the form of a buffet (they also have a set menu). They were really quiet when I visited, so the buffet was out of action. I ordered a Thai green curry- which was delicious, probably the best I've had & some spring rolls. If you book in advance you can have a vegan cooking class with the chef who's been vegan for over 30 years.
---
3/28 Moo 1, Fisherman's Village, Bophut (at Elysia Resort), Koh Samui, 84320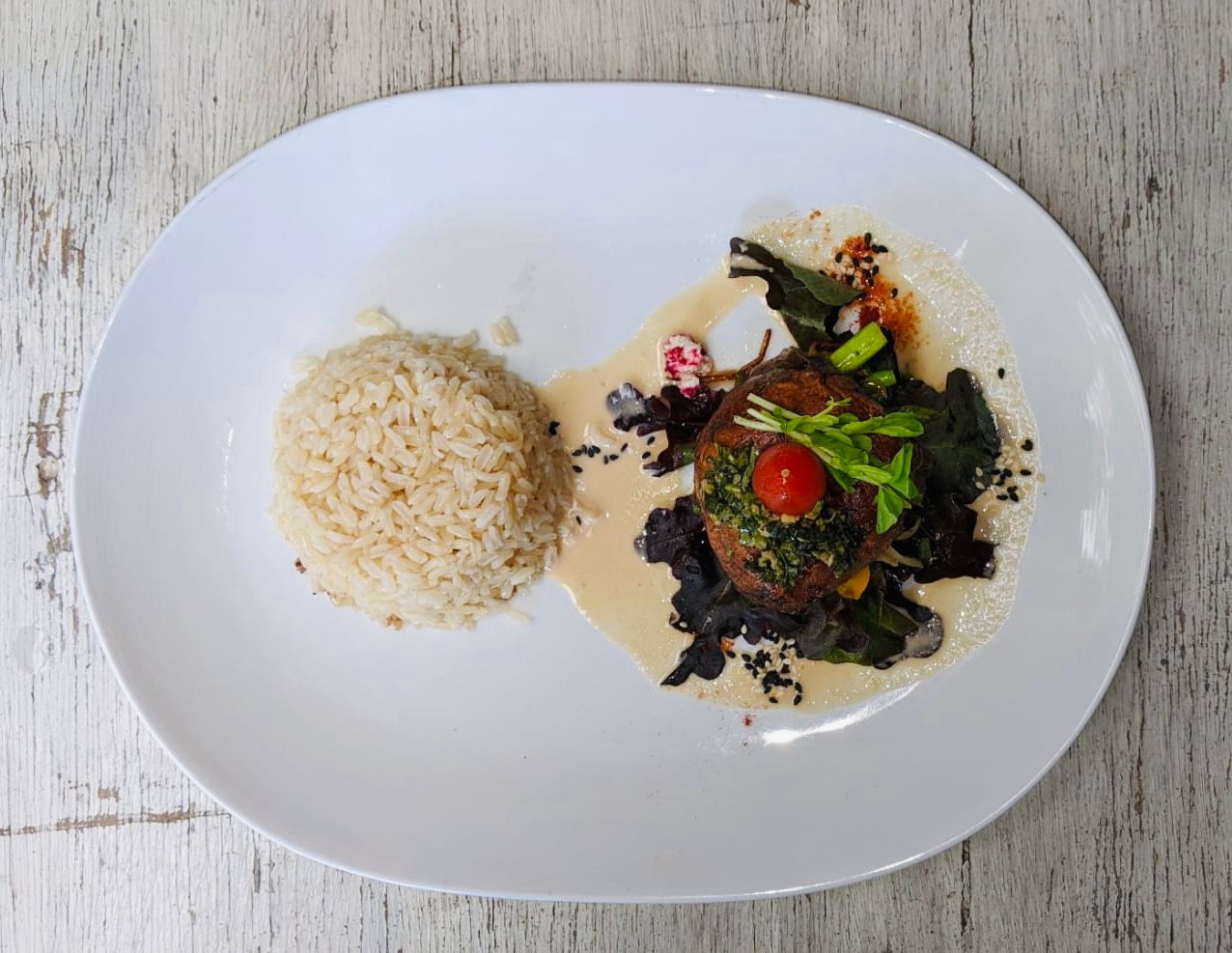 Greenlight Café is a poolside café & bar not far from the beach. It has a fairly extensive range of vegan food, and as a customer, you get access to the pool.
This was the most expensive meal I had in Koh Samui & whilst the food was good I didn't want to go back, well I did but only for the great desserts!
I tried the tiramisu and the snickers bar, both hit that sweet spot but I think the snickers bar was my favourite. I will say that I found them all very sweet though so I'd recommend sharing.
---
124/24 Moo 3, Lamai Ko Samui, Koh Samui or Central Samui Mall in the rear outside food court
Annie's has a lot of vegan options on offer but they're mainly known for their ''healthier'' treats. However, I became entirely obsessed with mango sticky rice whilst I was in Koh Samui so didn't actually get round to trying any of their treats. I did manage to eat a few of their burgers and wraps though. They're really delicious but a little expensive (well compared to other places anyway) but I would still recommend trying the beyond meat burger and adding the vegan cheese- trust me it's worth the extra 60baht!
---
129/1 Moo 3, Lamai, Surat Thani, 84310
Wild Tribe Café is a Superfood café with a range of healthy and plant-based nutritional options. I only went there once as I found their food a little bland. I had the vegan breakfast and whilst it was tasty (and super healthy) it was lacking in flavour, it needed a kick of heat or some garlic…just something to take it up a notch.
I would still recommend checking it out, especially if you're on a health kick- they do a great range of superfood juices! But just remember the food- or at least the vegan breakfast is a little underwhelming flavour wise.
---
My top tips for finding vegan restaurants:
Happy Cow – Happy Cow is my holy grail when it comes to finding vegan restaurants, they have an app and a website that will show you restaurants near you that are vegan, vegetarian, or have options, you can filter by cuisine and price too.
Google Maps – You can also find vegan food by searching on google maps. Type ''vegan'' or ''vegan burgers'' etc. into the search bar and it should provide you with local spots.
---
Those are the vegan spots I checked out during my time in Koh Samui, for the full list of options check out
Happy Cow
and if you're heading out there I hope you have an amazing time!