Related to Tags (1) (Content)
If you're fortunate enough to be heading to the historical city of Athens, Greece and are hoping for some delicious vegan food, you'll be happy to know you'll be spoilt for choice. From satisfying street food, to delicious desserts, Athens has a lot to offer in the way of vegan food and I had a fantastic time exploring that.
Check out my favourite places to grab some tasty vegan food below!
---
Actually before I get in to the restaurant recommendations, I have a few tips on how to find vegan food in Athens or anywhere really.
Happy Cow – Happy Cow is my holy grail when it comes to finding vegan restaurants, they have an app and a website that will show you restaurants near you that are vegan, vegetarian, or have options, you can filter by cuisine and price to.
Google Maps – You can also simply find vegan food by searching on google maps. Type ''vegan'' or ''vegan burgers'' etc. into the search bar and it should provide you with local spots.
Food Delivery Apps – Finally you can use local food delivery apps. Actually I like to find the restaurant on Happy Cow and then use an app to view the entire menu, this way you know if it has food you like or want to try. For Athens you can use Wolt and efood. I only used Wolt as you can change the menus to English.
---
38 Athanasiou Diakou & Kallirois, Athina 117 43
Veganaki was my first stop during my trip. They sell a variety of Mediterranean dishes such as feta cheese, tzatziki, falafel and moussaka.
I had the vegetable oven-baked omelette, served with cashew cheese and salad. Soutzoukakia (traditional meatballs) made of chickpeas and mint, soy tzatziki and wedges. Both delicious and a great start to my week eating my way through the vegan restaurants of Athens. I also tried the apple pie cake which is literally a cake made of pastry and filled with apple pie filling- it was a little strange but really yummy.
---
Aminta 15, Athina 116 35
Vegan Vandal is one of the best street food spots in Athens, amongst other things they offer burgers, nuggets and even a few cocktails. I tried the Eggplant Pita and Mushroom Skewer. Both hit the spot and I would order them again, although it was here that I learned the importance of a napkin at the bottom of any Greek street food. Cut to me with sauce all over my trousers- totally worth it!
---
23 Leoforos Athinas, Athina 105 54
Falafel House is a blink and you'll miss it takeaway spot that sells well falafel. They're a fully vegetarian restaurant with a few vegan options. I tried 3 of their wraps, the Mexican, the Original and the Babaganouj. I'm honestly not sure which one was my favourite, but I can say this, deep fried falafel is a game changer.
---
Smak (vegan options)
Romvis 21, Athina 105 60
Next up lets talk pizza and more importantly Peynirli, boat shaped pizza. I can't explain why but it's just better boat shaped! Smak offers a few different choices for vegans- truffle, hummus, avocado, and pesto. I had the Truffle (Fresh mushrooms, Vegan cheese, Truffle oil, Garlic and baby spinach) & Pesto (Vegan cheese, San Marzano tomato sauce, Vegan pesto, Cherry tomatoes, Capers) Peynirli. Both were fantastic but if I had to pick I'd say the Truffle just edged it for me, but I am a truffle lover so that's to be expected.
---
Themistokleous 43-45, Athina 106 83
Cookoomela were the pioneers for vegan souvlaki in Athens. So it may surprise you to know that I didn't actually try the Souvlaki (I'm told it's delicious). I wanted to try a variety of vegan options so from Cookoomela I had the Dakos salad, which is a salad made of rusks, tomatoes, avocado, almond cheese, capers and extra virgin olive oil with a deconstructed lentil soutzoukakia kebab plus extra wedges that were great but definitely not needed! I ordered this through the Wolt app, and I was happy to find out that all the packaging is biodegradable. Actually Athens do pretty well when it comes to plastic free and biodegradable packaging.
---
Maragkou 19, Glyfada 166 75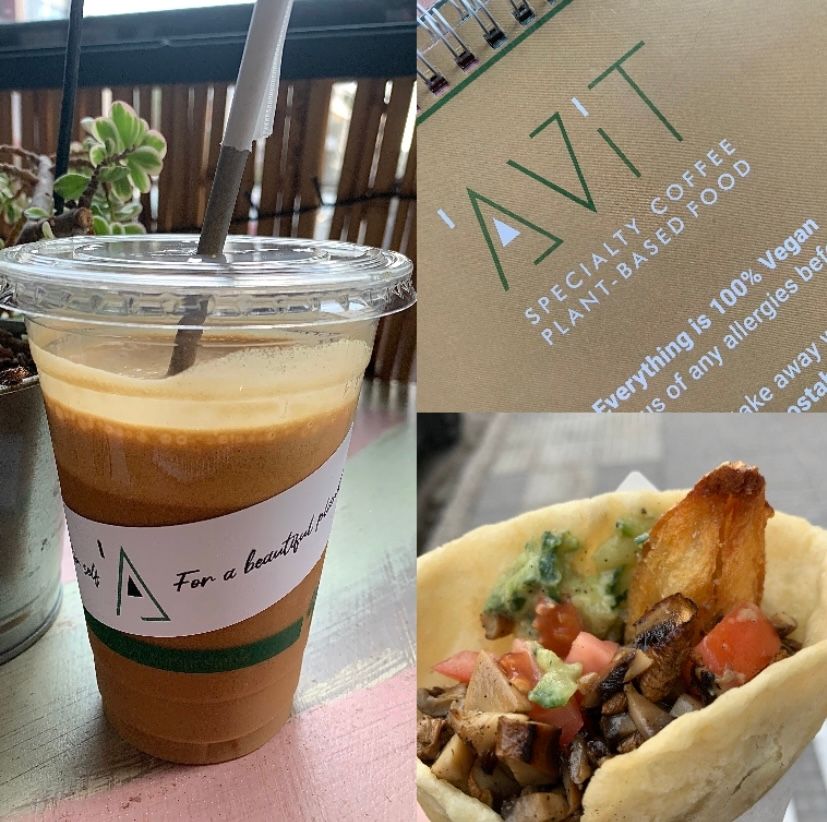 Speaking of biodegradable/compostable packaging. On my day trip to Glyfada beach, I followed up my glorious swim in the ocean with a quick lunch from AVIT. I had the mushroom gyros wrap & an iced oat latte- now I'm not very keen on Greek coffee, but the wrap was delicious and super cheap.
---
Agorakritou 32, Athina 104 46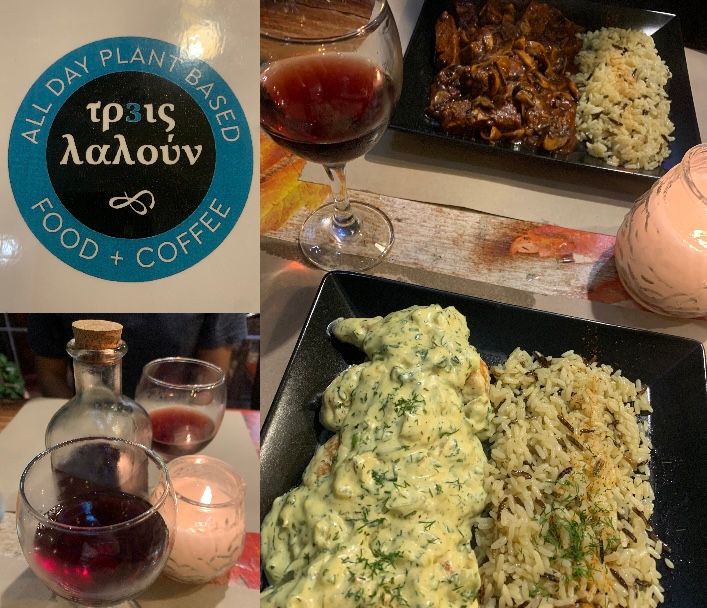 I didn't actually visit Treis Laloun until my final night in Athens, which was a shame as they have so much choice I would have loved to sample some more of the menu. This fully vegan restaurant offers dishes such as Caesar salad, fries with cheddar and bacon, chicken free a la creme, carbonara, meatless skepasti, schnitzel, plus so much more. I had the Tarragon & fennel shrimp with wild rice and got to try the seitan steak with mushrooms. The shrimp was potentially my favourite meal in Athens, the sauce was delicious and like nothing I'd had before.
---
21 Eolou Aghias Irinis Square, Athina 105 51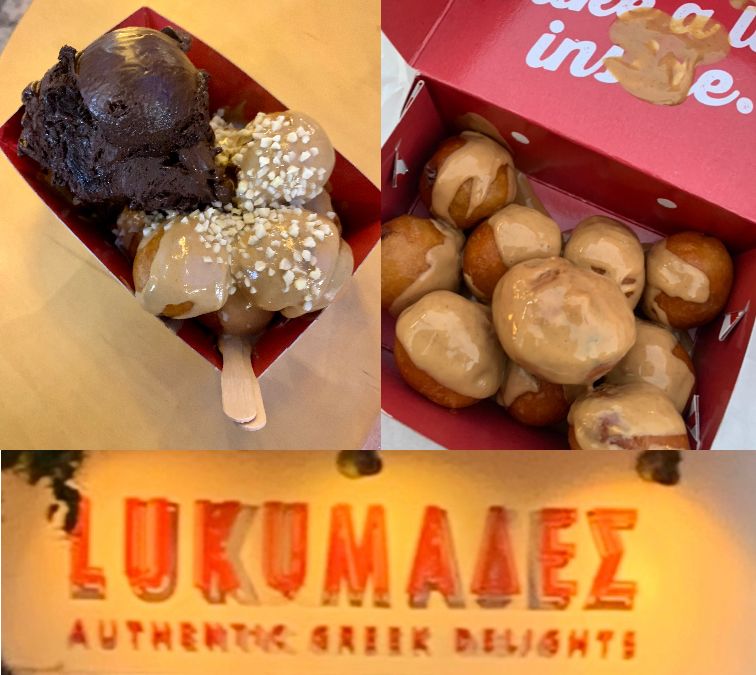 Lukumades do 1 thing and they do it well- Loukoumades (Greek doughnuts). They have a few vegan options to fill (or cover) your Loukoumades with. These include icing sugar, bitter chocolate, peanut butter, agave syrup, apple pie, and chocolate praline. In the week I was in Athens I went to Lukamedes three times and that still wasn't enough! I tried, peanut butter with chocolate praline, apple pie and the "Vegano" which is made with chocolate sorbet ice cream, vegan chocolate praline, peanut butter, and almonds.
---
Patousa 4 near Platia Kaniggos, Athina 106 77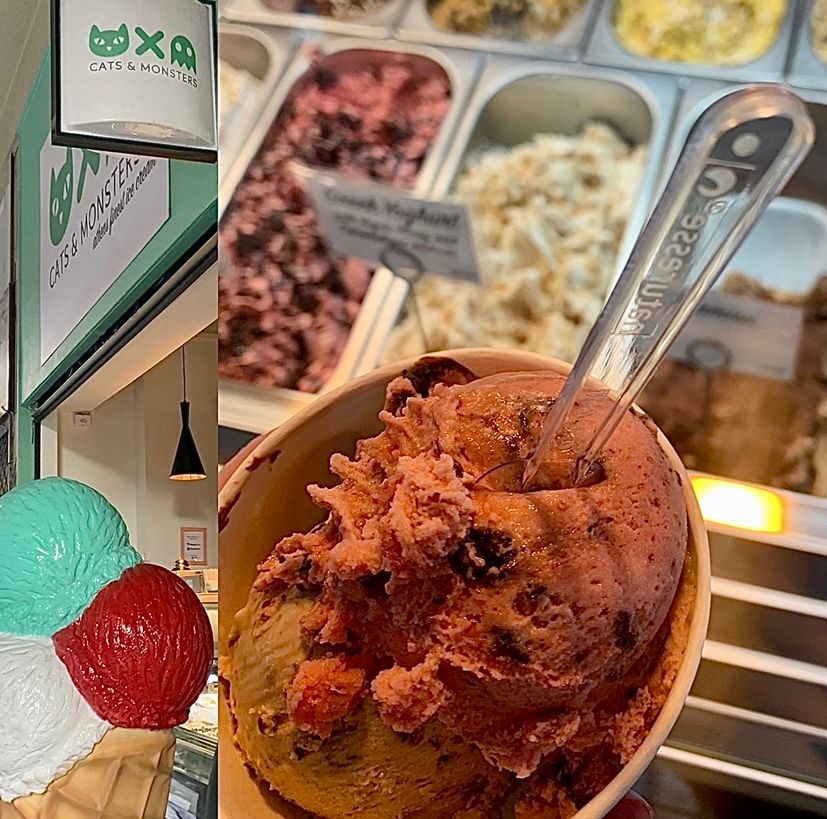 Whilst we're on the subject of desserts, let me finish this post by talking about Cats & Monsters. This 100% vegan ice cream shop has a variety of delicious flavours that you can enjoy in a cone or cup. They've got your classics such as strawberry and chocolate chip as well as some more interesting flavours like pear with feta and apple pie. They also specify the type of plant milk used for each ice cream. I tried strawberry brownie, hazelnut bueno, praline rocher and tiramisu, all delicious- but I think my favourite was bueno, this was one of my favourite chocolates in my pregan(pre vegan) days and I can confirm this was spot on.
---
Those are the vegan options I checked out during my time in Athens, but there was still a lot more I didn't get round to trying. Check out
Happy Cow
for the full list of vegan restaurants in Athens and enjoy your time in Athens, I certainly did!